New product - ice-auger "Sotka Kazantseva Sport"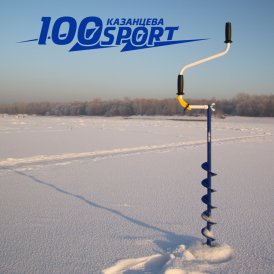 The Group of Companies "TONAR" launched the production of a renewed version of ice-auger "Sotka Kazantseva" which was very popular among anglers. During development of auger "Sotka Kazantseva Sport" all peculiarities of augers usage in competition conditions were taken into consideration. It combined all the best characteristics of sport ice-auger "Sotka Kazantseva" and the ice-auger "Tornado-M2 100", which are used by thousands anglers including Russian Ice-fishing Team.
Advantages of ice-auger "Sotka Kazantseva Sport":

Essentially increased length of screw and the number of screw turns allow to bore ice with the deep of 1.1 m.

Upper handle of ice-auger is tilted on 105mm and lower handle on 165mm. This allows to turn an ice-auger simultaneously with two hands and helps to do holes in ice faster.
Reliable lock with intensified screw, which gained a good reputation at the augers "Tornado", ensures absolutely axes' coincidence of auger and handle.
Handles are made from soft plastic material which stay warm and agreeable to the touch even in intense cold conditions.
Ice-auger is completed with standard blades TONAR. It's also possible to fix semispherical blades Helios which are fully adapted for boring any type of ice, including spring wet ice. If it is necessary, possible to fix blades with diameter 130 mm, that can help to increase the hole's diameter.
Less quantity of turns for boring of the hole, perfect quality and fast weeding of ice crumb, special angle of slope of cutting part help more effective work of ice-auger "Sotka Kazantseva Sport"!
← All news