Pre-order campaign WINTER 2018-2019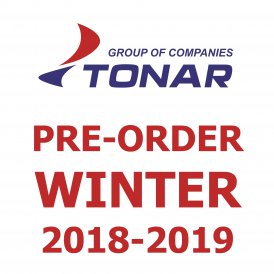 The group of companies "TONAR" opens pre-order campaign "Winter 2018-2019" for goods for fishing, tourism and hunting under its own trademarks "TONAR", "Helios" and "Premier Fishing".
Pre-order campaign is valid from March 20, 2018 to May 31, 2018.
Making a preliminary order in our company, you help us to create production schedules. We will produce the products in the required volume and place them at our warehouses so that you can get the goods on time!
The minimum amount of pre-order is 200 000 rubles.
When placing a preliminary order an additional discount 7% is given.
Advantages of participation in the pre-order campaign:
- the possibility of obtaining a full range of products in the season;
- additional discount;
- the most favorable prices;
- priority for shippment.
New goods of the season Winter 2018-2019:
- Ice augers "TORNADO-M2" with the clockwise rotation (130mm, 150mm);
- Screws "TORNADO" for motoengine with clockwise rotation (130mm, 150mm);
- Ice augers "ICEBERG" with the counter clockwise rotation (110mm and 130mm);
- Female versions of ice augers: LadyBur (100mm) and "TORNADO-M2 Lady" (100mm);
- Blades for clockwise rotation (130mm, 150mm, 180mm);
- New colors and models of "Helios" winter tents;
- New models of "Premier fishing" winter tents.
For more information please contact the company's managers.
← All news