Participation in ICAST-2019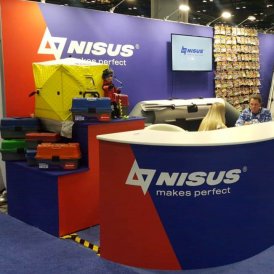 The world's largest exhibition of sport fishing ICAST-2019 is over, and our team has already returned to Russia. At the exhibition TONAR Group presented a new brand NISUS, designed especifically for the USA and Canada.
ICAST 2019 (International Convention of Allied Sportfishing Trades) is an international exhibition where leading companies from different countries of the world, such as Japan, the USA, Canada, Australia, Brazil, China, Finland, Great Britain, Italy, Hungary take part. The participation of the world's leading companies such as Shimano, Daiwa, Abu Garcia, Pure fishing, Minn kota, Garmin, Okuma reaffirmed the high international status and authority of the exhibition in the professional community. Such exhibitions are very important for the development of the industry, as they provide an opportunity to update and show achievements of the fishing gear industry.
TONAR Group presented a wide range of products, both for winter and summer fishing of the trade mark NISUS.
The visitors showed a great interest in "ICEBERG" and "TORNADO" ice augers, which are already well-known to American anglers from the World Championships, where many of the leading national teams are equipped with ice augers produced by TONAR Group.
The particular interest was paid to MOTOSHTORM augers which work effectively in any conditions, allowing you to drill the required number of holes with little effort with the help of a screwdriver or motor-drill. A request was made to expand the assortment with larger diameters (200 and 220 mm).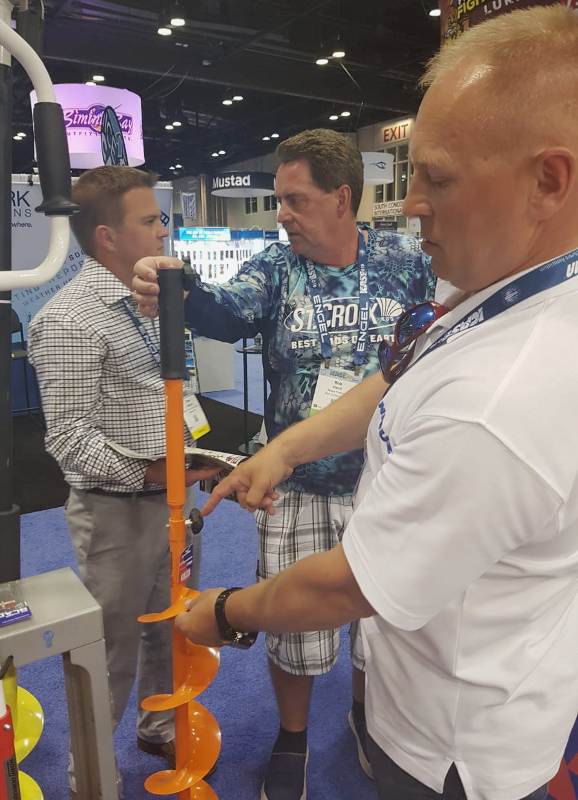 Ice fishing seat boxes were represented by 6 models in different colors. The boxes were tested for strength right on the stand. Impact-resistant plastic and robust design can withstand weight up to 200 kg.
A wide range of models and colors of silicone lures attracts attention at each exhibition. This season we presented light accumulative lures (Phosporus), which are designed specifically for fishing in low light conditions, great depths and low transparency of water. Their effectiveness has been repeatedly confirmed by fishing tests of our experts. Samples of edible lures have been proposed to American fishermen for testing on local water reservoirs.
We are sure that NISUS PVC boats will be in great demand in the USA, Canada and Latin America, as well as active rest on the water is very popular in these countries. They are perfect as an auxiliary craft on board for boats and yachts. Every year the boats produced by the TONAR Group are becoming increasingly popular, including the European market, as they comply with the requirements of international standards. All boats, both rowing and motor boats are produced by hot welding, which provides solidity for the seams, gives an aesthetic look to the boats, and also makes them more environmentally friendly by reducing glue.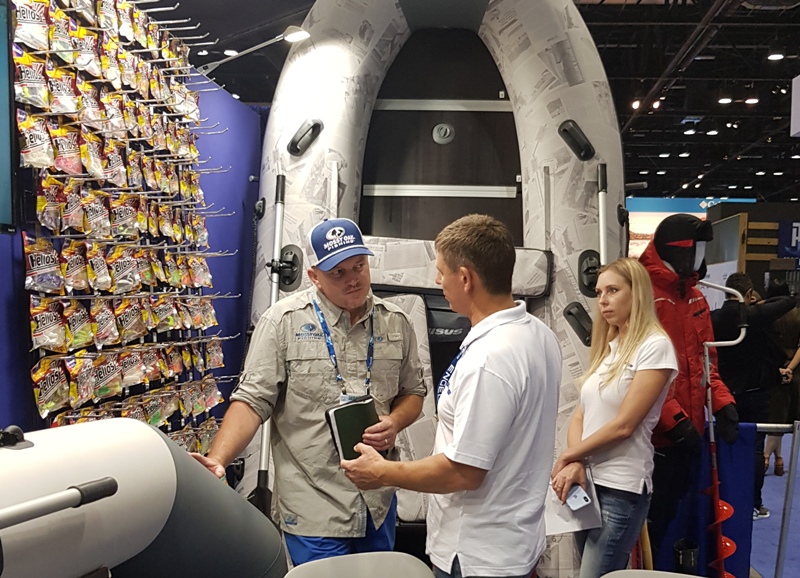 Anglers also showed a great interest in the new demi-season suit "CHAMPION", which is a form of the Russian national ice fishing team and was tested in difficult weather conditions at the World Championships in Bulgaria. The Fortex 15000/15000 membrane and taped seams coped well with rain and snow during the competition. A modern insulation Slaytex allows you to operate this suit to minus 200 C. This suit can be used in warmer weather conditions due to a well-designed ventilation system.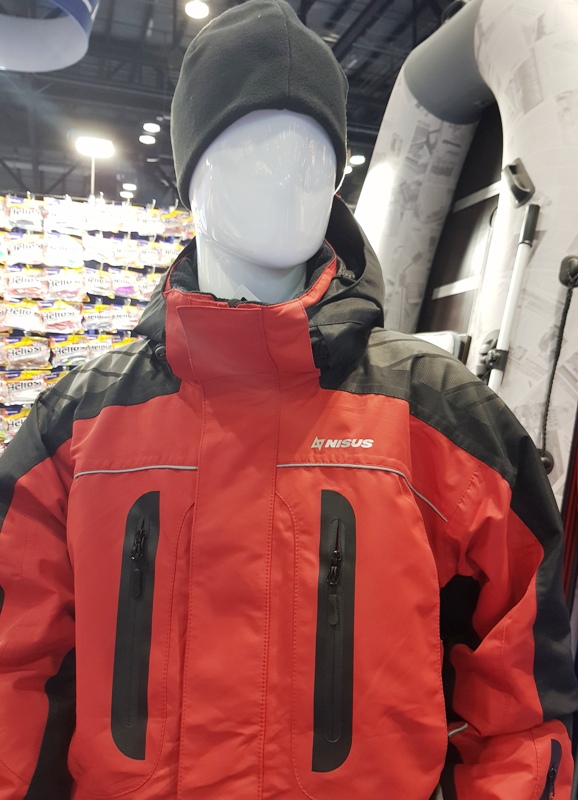 During the exhibition we established contacts with dozens of partners from the USA, Canada, Spain, Sweden and Costa Rica and received several offers to become our official distributors in the United States.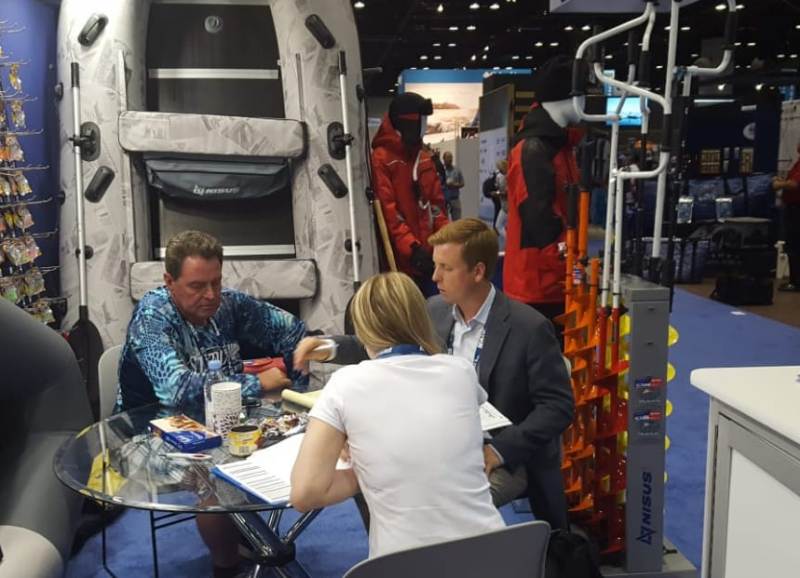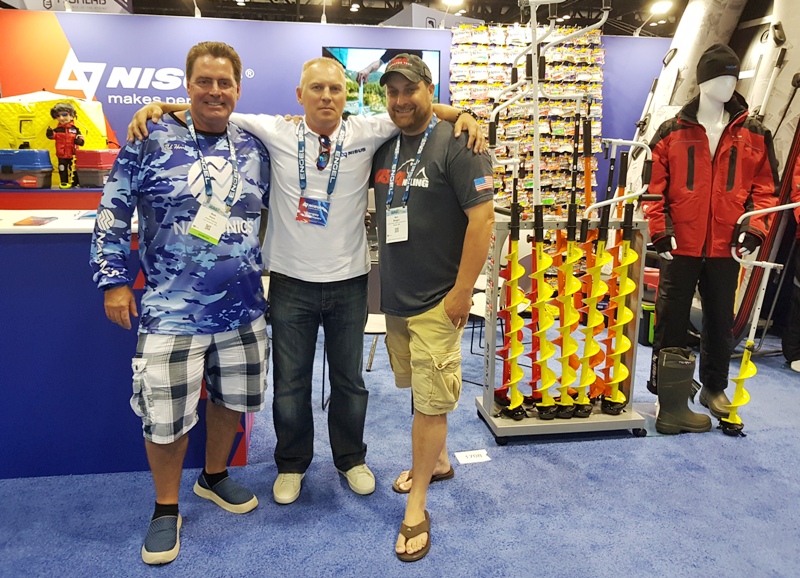 We will be glad to see everybody at 2019 St Paul Ice Fishing and Winter Sports Show in December.
← All news