New models of ice augers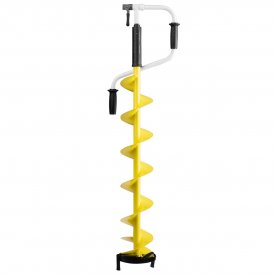 In September new models of ice augers were launched into serial production: ICEBERG-SIBERIA 160(R) -1600 Steel Head and LR-080 Sport.
Ice auger ICEBERG-SIBERIA 160(R)-1600 STEEL HEAD (art. LA-160RS) saves time and energy for drilling holes.
ICEBERG ice auger has an ergonomic design which helps the angler to save precious time while drilling holes and keep fishing.
This model has a solid-drawn seamless auger, which insures quick release of sludge from hole; reduces the effort needed for drilling and prevents the auger from jamming.
Steel head withstands great loads and guarantees constant cutting angle of the blades that ensure easy drilling.
Telescopically extension insert provides adjustment of the length of the auger for various ice thicknesses and fishermen's height.
Slip-proof "warm" handles provide best comfort of winter ice drilling.
Sustainable polymer coating withstands sharp temperature fluctuations and heavy mechanical loads.
It can also be used with electric or gasoline engine to save your time while drilling.
The product details:
CLOCKWISE ROTATION
Diameter - 160 mm.
Max ice thickness: 1600 mm.
Length in working position: 1600-2100 mm.
Length in transport position:1143 mm
Weight: 4,6 kg.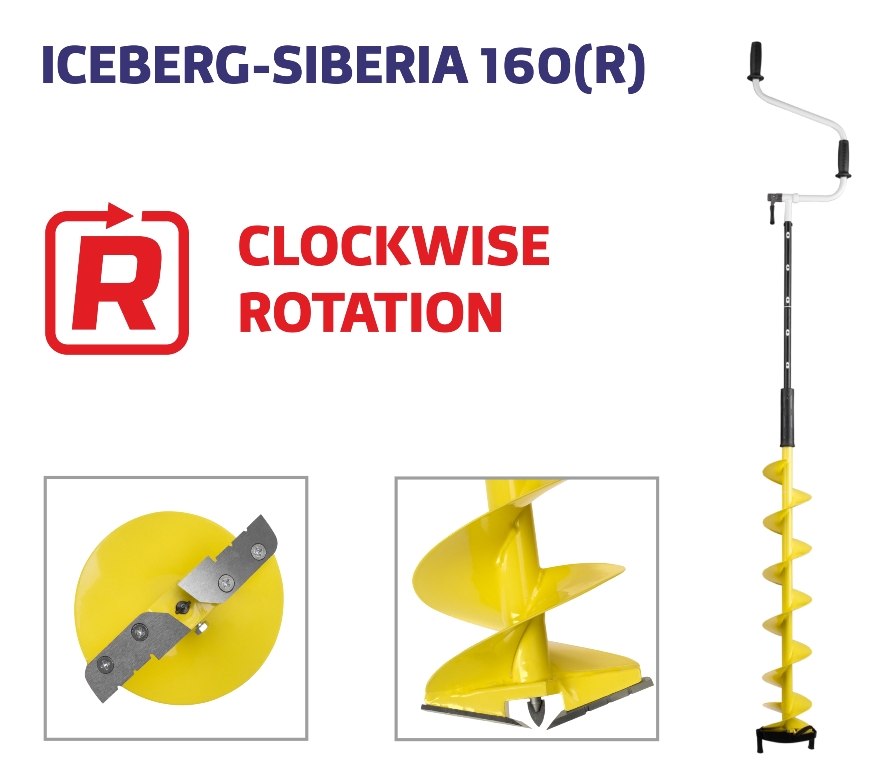 Ice auger LR-080 Sport (art. LS-80LD-1) has counter-clockwise rotation and seamless auger. The basic innovation of sport ice augers is an essentially increased length of auger and the number of screw turns. With the help of such ice auger one can drill holes up to 1,1 m. The upper handle of this auger is 105 mm displaced from the axis, the lower one in 165mm. This kind of handle allows to turn the ice auger simultaneously with both hands, thus increasing the speed of drilling.
The product details:
COUNTER-CLOCKWISE ROTATION.
Diameter - 80 mm.
Max ice thickness: 1137 mm,.
Length in working position: 1624 mm.
Length in transport position: 1181 mm.
Weight: 2.35 kg.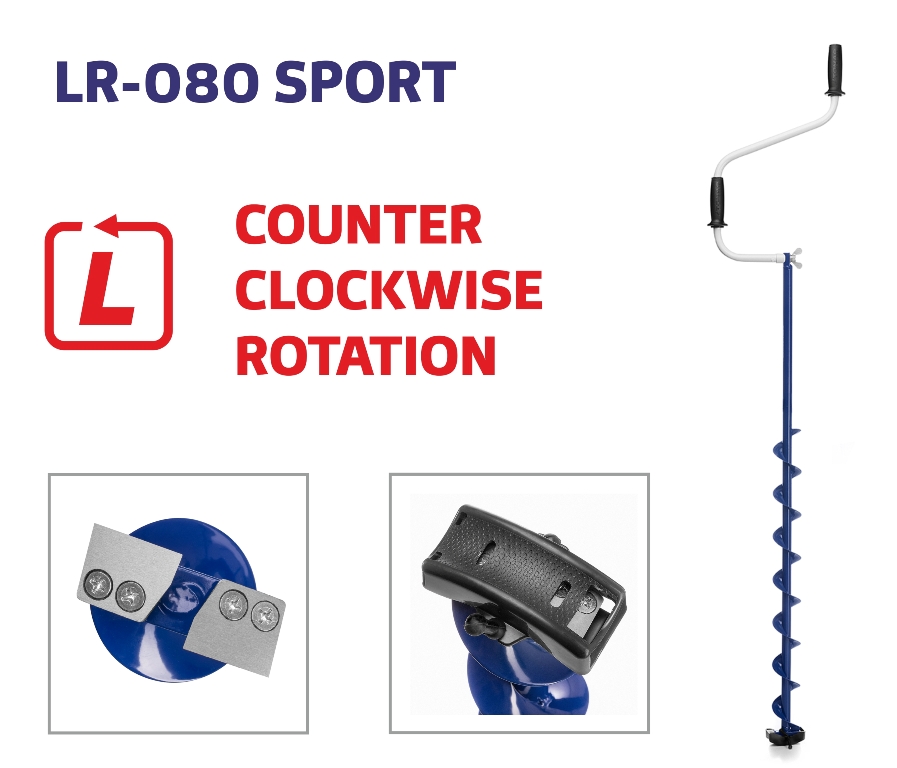 ← All news