December 13, 2021 - TONAR celebrates its 33rd anniversary!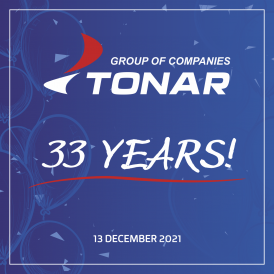 This is the age of maturity, professionalism and inexhaustible energy. The history of our company is the years of continuous work, stable growth, achievements, overcoming difficulties that made us stronger!
The company's birthday is a great occasion to rejoice at the successes achieved and set new high goals! We have a lot to be proud of: today we manufacture more than 10,000 types of products, we have more than 5,000 satisfied customers throughout Russia and abroad. This year ice augers and fishing boxes have been shipped to the United States, Norway and Sweden.
TONAR celebrates its birthday with positive results of all activities, confirming the status of a reliable and financially stable company. The company has formed an authoritative and professionally trained team, investing in their work not only strength, but also their soul!
We are proud of our impeccable reputation among customers and are grateful to each Partner for the trust and long-term cooperation!
Thanks to you, we constantly develop and expand the range of products.
We sincerely congratulate all employees on the company's birthday!
We wish you and your families health and well-being!
← All news